In a recent announcement, the UK Government acknowledged that fraud was now responsible for over 40% of the crime in the UK and that the £7 billion it generates each year is funding other forms of organized crime including terrorism. To combat this, the UK Government will be taking steps designed to protect consumers across the UK from falling victim to fraud.
While the debate over the merits of the decision will continue, it is expected that these changes will come into effect this summer. This article outlines the changes in governance and aims to clear up some of the current confusion, especially as managers of call centres handling finance related calls may not understand that it's still possible to operate in a compliant manner under the new regulations.
Action Being Taken
The UK Government will be investing in a new National Fraud Squad (NFS) which will work under the National Crime Agency and will be adding 400 new positions to take on the workload. This will include consulting with foreign agencies to track down and disrupt fraudsters operating outside of the UK.
The new legislation will introduce a ban on SIM farms, where companies acquire a large volume of sim cards to send huge volumes of SMS marketing material designed to generate leads or trick recipients into visiting fraudulent websites. It is worth noting that spam marketing practices are already prohibited within the UK (and overseas operators targeting the UK), but the new NFS will tackle this more directly.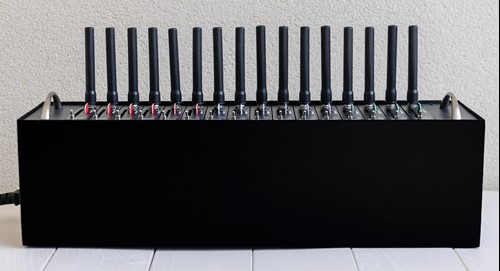 A 16-card SIM farm in action
In addition, it will also work with technology providers and look to bring an end to "number spoofing" which allows organisations to present a telephone number that is owned by another company. For clarity, number spoofing is not just the act of presenting a different number to the recipient, this remains compliant providing that the number can be called back and clearly identifies who made the call and why. Number spoofing becomes fraudulent when it's used to present the number of a company that is not linked to your organisation with the intention of misleading the recipient. Again, this is already fraud and hence illegal, but is something the NFS will be focusing on as part of its remit.
The largest change though which has drawn a lot of attention and confusion is the ban on financial cold calls and how this will impact businesses currently operating compliantly.
Ban on Financial Cold Calls
Since the announcement, the main headline topic has been the proposed ban on financial cold calls, however this does not mean that all calls related to financial products are now in breach of regulations. The ban is not on outbound calls related to financial products; it is a ban on cold calls related to financial products. The key part of this phrase being the word "cold". The UK Government has chosen to include the term "cold call" to allow other types of calls to continue. For clarity, the term cold call means to call someone who is not expecting or has not consented to your call.
Currently within the UK you can conduct outbound calling to people who have not requested a call provided they are not on the Telephone Preference Service (TPS) list, they have not previously opted out from calls from your company, and that you can justify the call as being of "legitimate interest" to the recipient with regards to the product or service you are offering.
Under the new guidance you will be restricted to only calling people who have specifically opted in to receive calls from your company. This would mean contacting people who are not on the TPS list and who you consider to have a legitimate interest in your product or service is no longer allowed for calls relating to financial products. If a potential customer completes a web form asking for a quote or call back, you are free to contact them as before.
The aim is that when a consumer receives an unexpected call related to a financial product, they can identify it clearly as a fraudulent call. If they had opted in recently, it should be fresh in their mind and they should recognize the company by name to know the call is legitimate.
Additional Steps
In addition to the above steps, the UK Government is also investing £30 million into a reporting centre which is expected to be ready by year end.
They will be working with technology companies to make it easier for consumers to report fraud when online, specifically noting the desire to have a single click to report fraud when on social media. They have also noted they are looking to give banks more time to process transactions to allow them more of an opportunity to investigate suspicious payments in more depth. However, details on what this means for consumers has not yet been clarified.
Moving forward
While we can expect these changes to roll out across the year with the ban coming into action during the summer and the new reporting centre opening by year end, it is safe to say this is not the final format everything will take.
To ensure the change is impacting the levels of fraud within the UK it is likely that the new agency will be reporting at regular intervals on whether they are failing or succeeding at tackling the various threats to consumers and this will lead to both changes in regulations and the approach they take to enforcement. With that in mind it will be important to continue ensuring you stay informed of any future changes to the approach as it may become more restrictive should they not see desired outcomes from the initial changes.