At Greenlight, we're always looking to the future. This includes considering what's best for our clients, their customers, our team and for our industry as a whole and how we do right by them. With 2022 fast approaching, now's a great time to look inward and how we can best move forward in the New Year.
If you look around when you're walking down the street, you'll see people glued to their smartphones, seemingly ignoring the world around them. This isn't an addiction to technology but an addiction to being part of a larger community and a feeling that we'll miss out on something if we look away even for a second. Not too long ago, your social circle would likely be small and confined within a small geographical location, especially by today's standards of social media circles. This applied to individuals and small businesses alike.
As we've moved forward, the Internet has drawn us in very close, and our community is no longer defined by our geographical location and instead revolves around our shared interests. This change means that the opportunity to engage with global issues is no longer a million miles away and out of our reach. Every individual, and every business, can contribute to making a significant impact on the world we live in. Our responsibilities to each other, to this planet, can be front and centre in the way we behave.
Our Journey So Far
Greenlight's journey began in 2006 and we've grown steadily over the past 15 years. We've weathered industry upheavals, regulatory changes, and now global pandemics too, all while remaining true to our core ideals. We provide an excellent environment to work in for all our staff, hire purely on talent and ability to do the job, and strive to keep the call centre industry informed on the latest regulations and best practices, all while continuing to develop fantastic technology to support the growth of our clients worldwide.
At Greenlight, we recognize that the products and services we develop need to be sustainable. We have typically thought about sustainability in terms of our ability to scale with our customers and to ensure our platform is reliable and robust. While these remain key priorities, we also want to be sustainable for the planet.
Based in Scotland, we have enjoyed front row seats to the COP26 debates and we benefit from Scotland's continued efforts to be at the forefront of nurturing our industries to make better use of renewable energy sources. From our vantage point in Dundee, we'll also be on the doorstep of the new Eden Project Dundee, intended to spotlight how everything we do has an impact on our world and that everything is interconnected and how we can better live and work in harmony with the environment. We need to harness this momentum and ensure we make good choices in how we operate to ensure our ongoing growth is sustainable.
We recognize that operating in a Net Zero manner is good for our planet, customers, and ourselves. How we achieve this is a question on many people's minds; it's by no means a small task and requires us to look at every aspect of what we do and the footprint we leave behind.
Fortunately, at Greenlight, operating in an environmentally conscious way has always been a natural part of our decision-making process. The most significant environmental impact made by cloud technology providers is the energy demanded by the giant data centres that run 24/7 powering the services we provide. These buildings contain endless racks hosting thousands of servers all constantly draining power and requiring endless fans and cooling systems to keep the heat generated to acceptable levels. While we use our fair share of data centre space to run our business, we already ensure our data centres use the best technology available to reduce emissions. Our data centres utilise the best heat management innovations to make the most of the ambient environmental temperatures to help keep our cooling needs low. Our hardware is maintained to a high standard while preferring Energy Star accredited devices where possible to ensure our impact is as low as possible.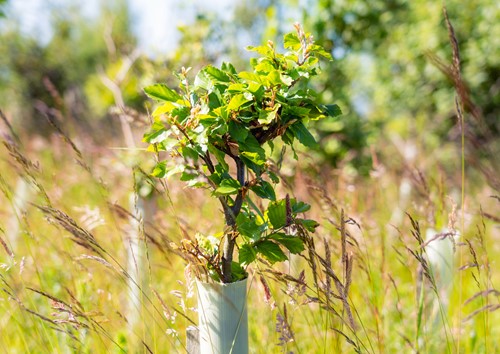 Our Pledge
We accept that we can always do better though, and that change must start at home. Starting now, we will regularly be reviewing our carbon emissions and actively seeking methods to reduce our footprint as a continual objective. We will be joining the UN's Race to Zero campaign and will be working with groups such as the Net Zero Scotland Community to achieve Net Zero Accreditation throughout the year.
It's imperative that if we want to make an impact, that we choose to promote others who act with these same ambitions. Many of our providers are contributing to large scale projects such as the Eden Project, and as we enter 2022, we will be doing the same. We will be working with Ecologi to help with their reforestation efforts and the many renewable energy farms being created across the globe.
Making positive change is not just about fancy new technology though, it's about who we are as a team and how we operate. To have the most significant impact, we can't just make changes quietly; we need to celebrate the activity and, by example, encourage others to act in an environmentally conscious way. Throughout 2022 we will be opening the door on Greenlight to allow you to meet the team and see the strides we take on our journey to Net Zero, and as we reach milestones, we would love to share them with you all.